Just kidding... I'm not really superstitious, and especially not about the number 13. First, some good news! My Template 12 was posted by
IkeaGoddess
yesterday! I'm honored. Thank you so much, Angie! I cannot believe how many downloads it already has. O_o Anyway, on to today's freebie!
Template 13
This is kind of a geometrically funky layout. It's a two-pager (my muse seems to be sending them alternating with the one-page LOs nowadays) with room for either 9 photos (I seem to really like that number, I always do it by accident and don't realize it until I count them up), or 5 photos and a bunch of papers.
6/11/09 - This template has been updated and now includes both the original PSD and new PNG files.
Click the preview to download!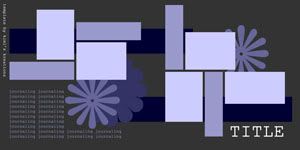 Have fun with it~ As always I'd be happy to see any layouts you might come up with!