I'm still in recovery from last Friday's freebie spam! *lol* I hope you all are enjoying "Ready For Sun!" and making lovely pages that of COURSE you are going to show to me so I can squee at you! ;)
Anyway, tonight I got to host BAM's speed scrap! Here are the clues I came up with:
1. Choose three photos. Crop them so they are exactly the same size and shape (or as close as you can). You may use different pieces of the same photo if you wish (close-up on face, zoomed out view, etc, I'll count them as separate photos). You MAY rotate the shape. Be creative!
2. Choose exactly three papers, no more no less. One must have a visible print of some sort. One must be plain-textured. One must be either worn, folded, torn, or messed up in some way. You may use them as many times as you like, in any way you like.
3. Find an element that in some way mimics the shapes of your photos, and layer it behind each one. It can be as large or small as you like, and only needs to be visible enough that you can tell it's a similar shape. You may use your papers for this piece if you need to, but try to find premade elements. You MAY use 2-3 different colors of the same element.
4. Add exactly three ribbons, strings, or ricrac strands (long straight or curly ones, no bows unless they're part of a bigger piece).
5. Pick exactly three more elements and use them any way you like, as many times as you like.
6. Add a THREE WORD title, using at least two different fonts. You may use alphas, as long as they are different.
7. Journal and/or date if you wish, and three cheers, you're done!
LOTS of threes. And you know what's funny? I didn't realize until JUST NOW that a triangle has three sides and therefore follows that theme. *rofl* Here's my layout: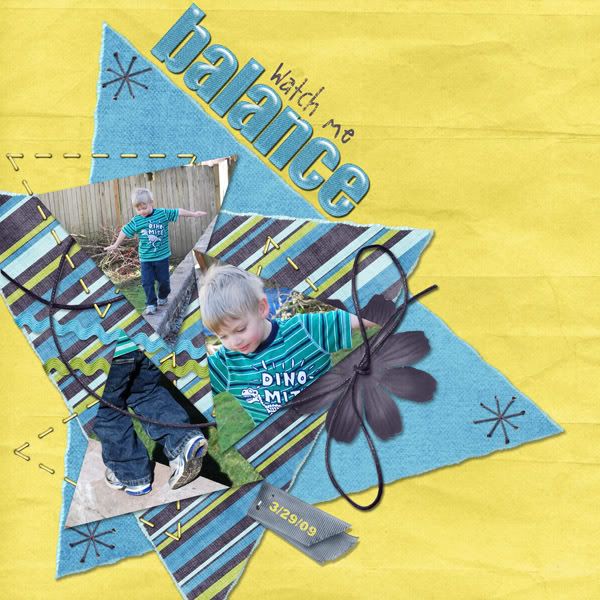 Credits:
-yellow paper, ricrac from "Playtime" by geniaBeana
-blue/striped papers, black string, most other elements from "March Rainbow Challenge" by Christy Skaggs
-yellow stitches from "Chance of Rain" by Bon Scrapatit
-alpha from Sunshine Studio Mission 3, "Best of Both Worlds" by Aisyah Roslan
-torn paper, rough litho actions by Atomic Cupcake
I had so much fun with this one I decided to make it into a template so you guys can all play too. :)
Template 22
This has three little triangles for you to plunk your pictures into. There's plenty of white space for journaling or... just leaving white, lol, and STITCHES! Triangles can be funky, but you'd be surprised what pops out of your photos when you crop them into a new shape! Have fun with it!
6/11/09 - This template has been updated and now includes both the original PSD and new PNG files.
Click on the preview to download!