Time for a blog train!! This is BAM's first ever blogtrain, and we're all pretty new designers, so go easy on us ;) We weren't going to do this until tomorrow, but we just got so excited we couldn't wait!
Our first Color Challenge was to create a minikit with three papers, and three elements, using this palette created by geniaBeana:

We all came up with our own kit-theme and played around in our own styles. It's a short train but hopefully has some stuff you'll like! All aboard~
BabyAndMe Color Challenge #1 Blog-train - Kimi
My minikit is called "Ready for Sun!" It contains three glittery elements: one double-picture, clear acrylic frame with a flower embellishment, one sparkly flower doodle, and one sunshine. I hope you like it!
Click on the preview to download my portion of the train!
EDIT: Link expired -- check my shop! :)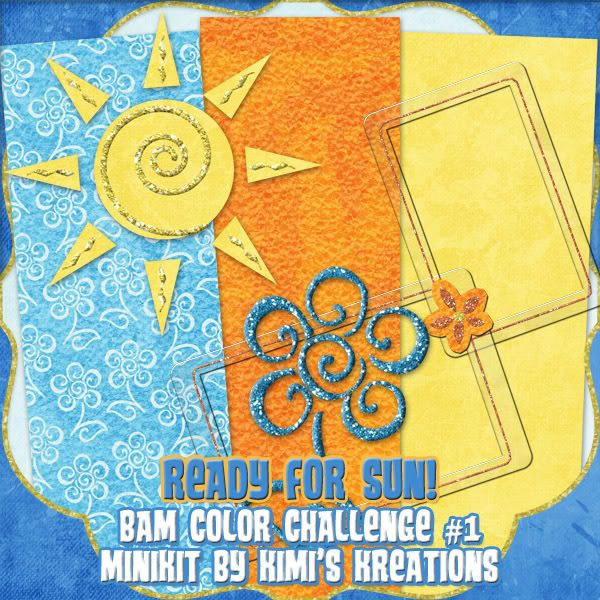 Here are links so you can visit the rest of the ladies who participated. Remember to leave us some love if you enjoyed it! We'd love to do more of these in the future if people are interested! Oh, and if any of the postings aren't up yet, just be patient. ;) They'll be posting ASAP.
BAM Designers
geniaBeana Scraps
Kaelira's Digiscraps
Kimi's Kreations <--- you are here!
Scrap It Simply
Digital Designs by Me
Thanks for coming! Be sure to stop by in the next day or two, when I will be releasing my expansion kit to match this mini! I'll also be posting some matching glitter styles! Woot~