This is a counterpart to Template 18, with the same background scheme. It was going to be linear, too, but it wonkified itself. ;) There's room for 9 pictures (seriously, what IS it with me and that number??) -- be aware of the one in the middle as it will be split in half. You don't want to lose any important details! I would make that one scenery, or an off-centered photo, unless you know the secret to seamless 12x24 printing.
6/11/09 - This template has been updated and now includes both the original PSD and new PNG files.
Click on the preview to download!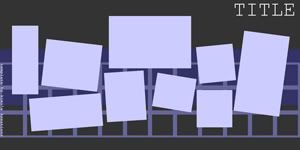 Enjoy~ I will probably be back tomorrow with something else fun for you. :D