I've been speed-scrappin! I participated in my second speed-scrap at BAM the other day. The guidelines:
1. Choose 1 background paper. Then choose 3 more papers that will be used in the background.
2. Your page must contain 4 photos. They can all be differnt, or some can be duplicated.
3. Choose 1 element, and use it 3 times on your page.
4. Choose 2 fasteners. Use them as much as you like.
5. Choose 2 more elements. You can use these ones as much as you like!
Add as much journaling, word art, and title as you like!
My page: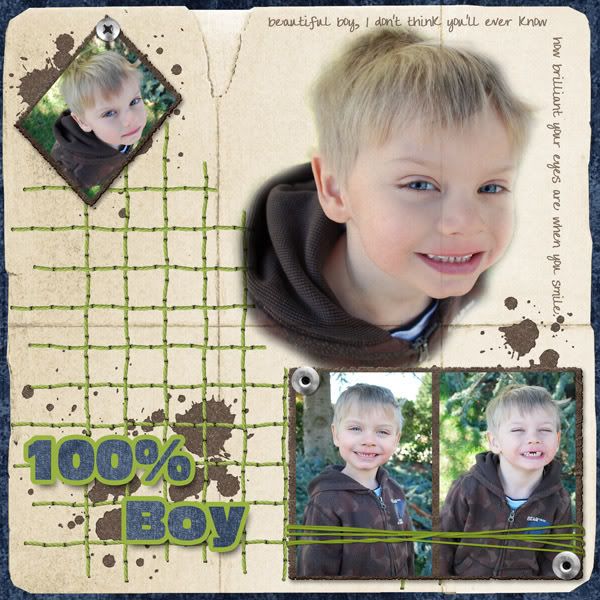 Isn't he gorgeous? I love how the page turned out, but more than that I LOVE these pictures. *melts* Oh, and I will be making a template for this to be released later this week, if you're interested.
Credits:
Used 2 kits: Diesel from Digital Candy, and Boys' Club by Sweet Blossom Designs.
Dark blue papers (2), cream folded paper from Diesel
Brown paper, splatters (used thrice), rubberband (extra element 1), screw fasteners (2 different ones), stitched lattice (extra element 2) from Boys' Club.
Fonts: Tracy, Antique Olive Compact
AC Simple Tear
Then, we have weekly challenges too. This week, the challenge was to scrap something using Shabby Princess' Promise kit. We also had to use the number 8. And we had to get creative as more and more people posted their layouts so we didn't copy anyone's idea. ;) Finally I hit on the idea for 8 months pregnant! This is my belly from when I was pregnant with my youngest. I love this belly, it was so big and round! It was like I swallowed a beach ball. One guy asked me if I had twins in there and was shocked when I said only ONE baby thank-you-very-much. It was also 1:30 am when I made this layout, so I was feeling like being snarky about it. *lol* (Oh and in case you're curious, this baby ended up weighing in at 10 lbs 1 oz at birth! LOL)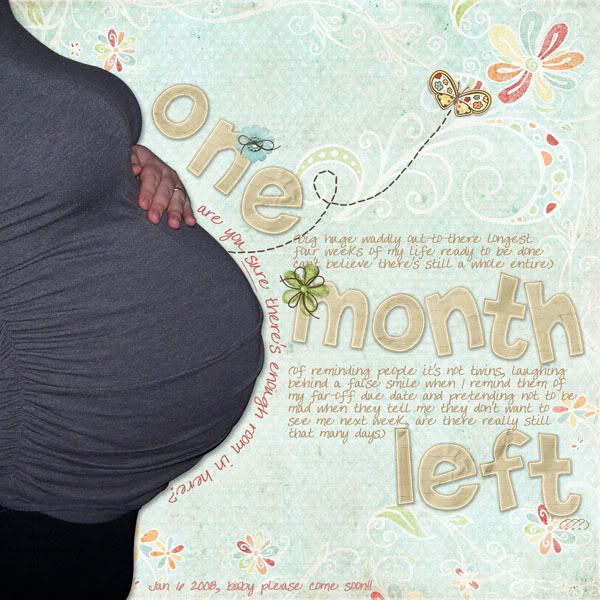 Credits:
kit - Shabby Princess Promise Collection
font - Tracy
scraplift credit goes to Elly (Fireandiceshay) for the wrapped text around the belly!
...and nothing else!
One more, since I haven't shared this yet. This was for another weekly challenge, to scrap your best friend. Well, mine of course is my dear husband. I have mixed feelings about this one. Just not sure it's perfect yet. ;)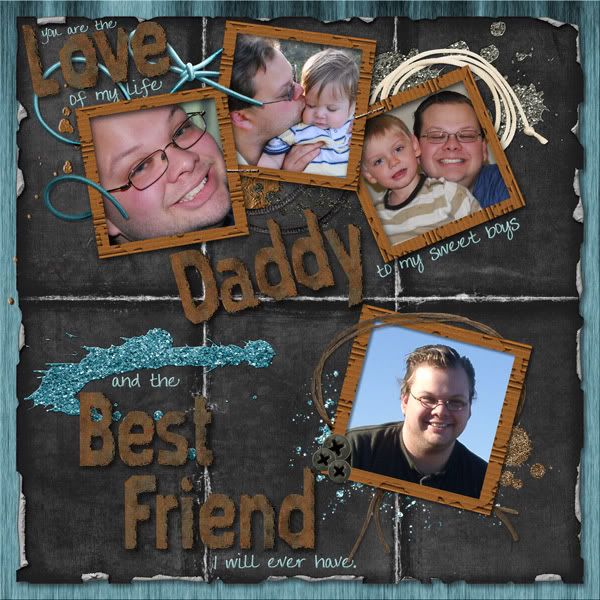 Credits:
kit - "Diesel" by Digital Candy
font - Tracy (the big words are the Diesel alpha)
Oh, were you waiting for that freebie I mentioned in the title? Well FINE ;) Here you go!
Template 18
This one has a counterpart that will be released tomorrow or the next day, so if you see the same template twice they are actually different -- they just match each other. ;) Anyway, it's a clean and simple frameless template with room for 11 photos and a pretty kind of boxy thing behind it. Inspired by a wall at Jack in the Box, lol -- this is what happens when you sit too long at a fast-food place waiting for an oil change. I'd love to see this one with pics in it, so please let me know if you use it!
6/11/09 - This template has been updated and now includes both the original PSD and new PNG files.
Click the preview to download!