I keep waking up in the morning with new ideas for templates in my head. Now if only I could get them in the evening, when I actually have time to make them into real layouts!
Template 16
Two pages, nice and wonky. 11 pictures again, go figure. *lol* This is based on the feedback I received from a few of you who commented. I hope you like it! No shadows included; they are shown on the preview only, to make the frames pop apart a little. Oh, and they're included in the PNG version. I hope that's okay!
6/11/09 - This template has been updated and now includes both the original PSD and new PNG files.
Click the preview to download!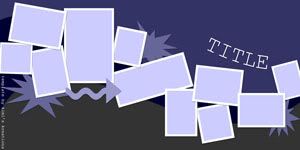 Time willing, I will probably finish out this week with a template every day. Just FYI. ;) Happy scrapping!