(LOL, this accidentally got posted blank, sorry if you came by while it was empty! I'm giggling over here.)
This week's weekly challenge at BAM was to use the kit "Sweet Springtime" by Summer Driggs. It was an 8x8 kit, however, so I didn't want to do a major page with it -- well, that and it's very girly, so I had to incorporate some of the girl cousins to keep my boys from being over-pinkified. *lol*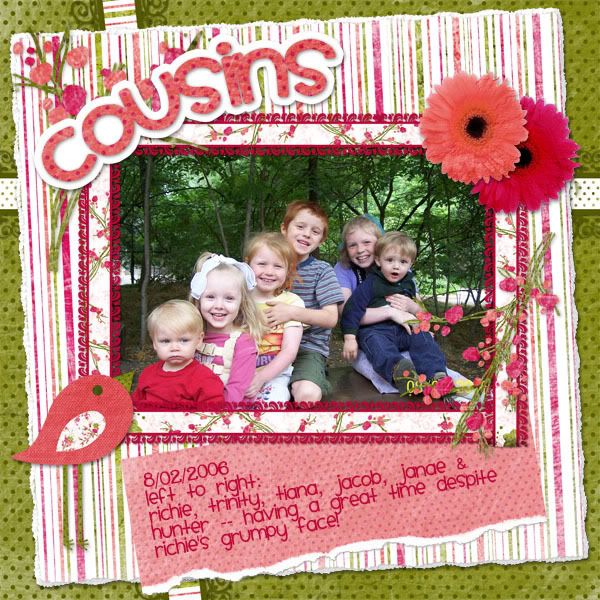 Credits:
kit - Sweet Springtime by Summer Driggs
actions - Small Torn Edges by Atomic Cupcake
font - Smiley Monster from kevinandamanda.com
So I'm still working on my minikit for Color Challenge #1, and I keep getting distracted with new actions and fun fonts, and making alphas! They're just too fun. Well, this week's freebie at Atomic Cupcake is Cracked Paint, and it happens to look awesome with the papers I'm making. So I made 8, yes EIGHT alpha sets, one for each color, for mixing and matching over the color-challenge LOs. I used the font "Tan Patty" from kevinandamanda.com to make the alphas.
They have not been separated out of their alpha sheets.
The thought of separating out that many little files made my brain hurt, so I kept it simple. BUT if you're interested, here they are, all wrapped up together.
Mix & Match Alphas for BAM CC1
Click on the preview to download! (~47MB download)
EDIT: Link expired -- check my shop! :)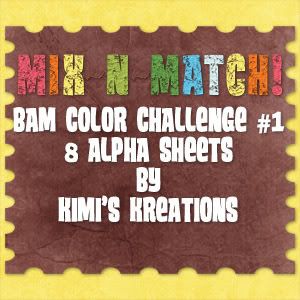 Have fun with it~ Let me know what you think!