The mommy-forum I'm on (BabyAndMe forums) is having its first-ever Color Challenge. Genia Beana came up with a fun color palette, and we can either design a layout using those colors, or make a mini-kit with 3 papers, 3 elements, using the palette. I haven't finished with the kit yet, but I made an alpha today! I thought you might like to see it. :)
I had heard somewhere that making alpha sheets instead of individual images was "a HUGE space saver," so I decided to try making both options available. Uh, the sheets are almost the exact same filesize, and maybe a little bigger than the alpha that's cut up. Nevertheless, I realize that people have different preferences as to whether they like the alpha all together in sheets or split up separately, so I made you both! I'll compare the number of downloads each set gets to determine whether I continue this trend or not.
BAM Color Challenge #1 - Alpha
This is a transparent acrylic alpha with GLITTER! The font is "His Name is Honey" available free at kevinandamanda.com. Download links below the preview this time :)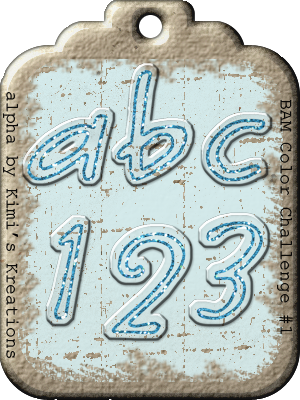 EDIT: Links expired -- check my shop! :)
Have fun with it!! And keep watching -- I'll be releasing the minikit and possibly a larger kit later on.