I've found a way faster method of making alphas in Photoshop, so I'm working on getting yesterday's alpha sheets separated out. It's driving me nuts to have to open the whole sheets just to get one letter out to mix and match with! *lol* So be on the watch for that. I've got all the alphas chopped up and just need to apply my method to the number/punctuation sheets. And make a better preview, because I don't know what I was thinking but that one is UGLY. Brown and yellow? Really, was I sleeping? Anyway, here's your freebie for today~
Template 21
This is a four-photo page with little postage-stamp mats and some paper strips to play with. I almost think it's too busy though. I don't know. I'd have to see it with pics in it.
6/11/09 - This template has been updated and now includes both the original PSD and new PNG files.
Click on the preview to download!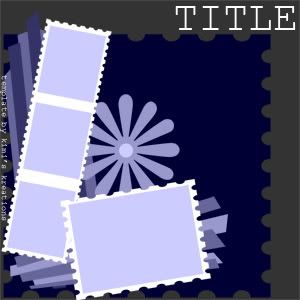 Enjoy~