Woot, look at that round number! I don't know when I'm going to get more free time, so you get your template early today. Don't forget to scroll down to the previous post for yesterday's pretty two-pager, and remember to come back tomorrow for #31!
Template 30
Today's template is a one-page, 12x12", crazy mishmash of wonky pictures with mats. There are nine of them squished into one page! I tried to do a layout for you, but ended up wanting to do something different with the pics I had chosen, so you'll have to imagine it for yourself. ;)
6/11/09 - This template has been updated and now includes both the original PSD and new PNG files.
Click on the preview to download!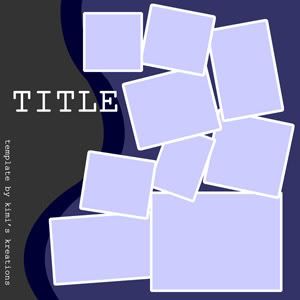 I'm trying to branch out here and there with my freebies, but sometimes I'm not sure what would be well-received as a standalone freebie. What are you guys interested in? More alphas? Glitter? Standalone elements? Or should I get my butt in gear and release a minikit?