For those of you just making your way to my blog, be sure to check this week's post -- I've been template happy and there are a lot of freebies there now. ;)
This was done for BAM's first collaborative recipe challenge. Basically, a random 6 participants each picked a step, one each day for a week, and then we had an extra week to finish. The steps were:
1. Pick 1-3 photos. Make one of these photos the main focus of your page, in whatever way you choose.
2. Choose a color from your photos (one they all have in common) and pick one paper and one element (any element) that is that color or has that color in it.
3. Add something that is a circular shape, a square shape, and a triangle shape. It could be your pictures, an element, papers - your choice!
4. Add three staples, and a string. Put the string under an element.
5. Use an alpha to make one word in your title pop out from the rest. You can use another alpha for the rest, but one word should be totally different and really pop!
6. Add a doodle, copy it somewhere else, you can shrink it or stretch the copy if you need to.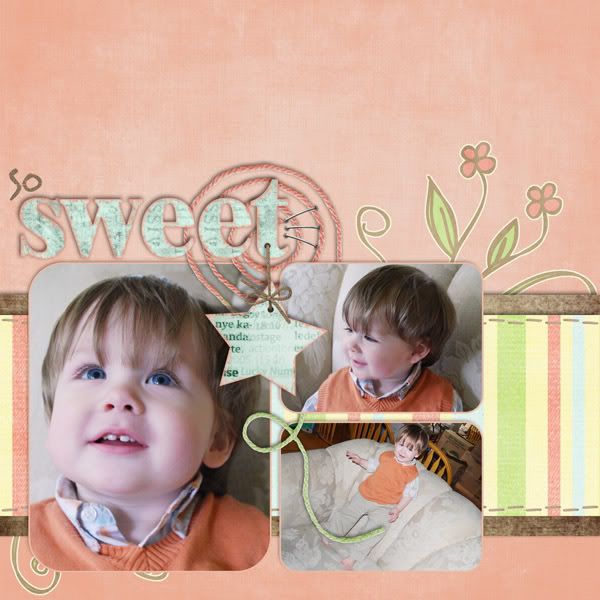 The circle is the string, the square is the papers (okay it's a rectangle, whatever), the star's points are triangle shaped. :D I'm pretty sure everything else is included/obvious.
Credits:
kit - "Fresh Air" by Steel City Scraps
staple - "Front Porch" by Steel City Scraps
font - Pea Kawai
As I usually do with multi-pic layouts, I got right on the ball and made y'all a template from this one. ;)
Template 33
This is a clean and simple one-page template with rounded edges, very thin-edged mats for a touch of color (or white), and only three photos. There's also room for a few papers and plenty of white space for elements and journaling. :)
6/11/09 - This template has been updated and now includes both the original PSD and new PNG files.
Click on the preview to download!