This past week has absolutely flown by. I'm not sure why. I went through a major scrapping spree early-on, working on the next BAM Color Challenge. Then, I think about mid-week, I found one of my templates on someone else's blog, hacked into a two-pager and claimed as an original. Thanks to Angie (IkeaGoddess), the blog was deleted for copyright violation. In case it's not clear, it is so not okay to take mine or anyone else's templates and/or graphics and claim them as your own. *sigh* Anyway, I got into kind of a funk after that and it took a few days to recover.
But I did! :) Here's one I did for the Altered Candy Challenge at Digital Candy. My alterations were the burnt edges on the cream-colored paper, sanded edges on the flowered paper, and a subtler change -- I flipped the orientation of the silver part of the clip.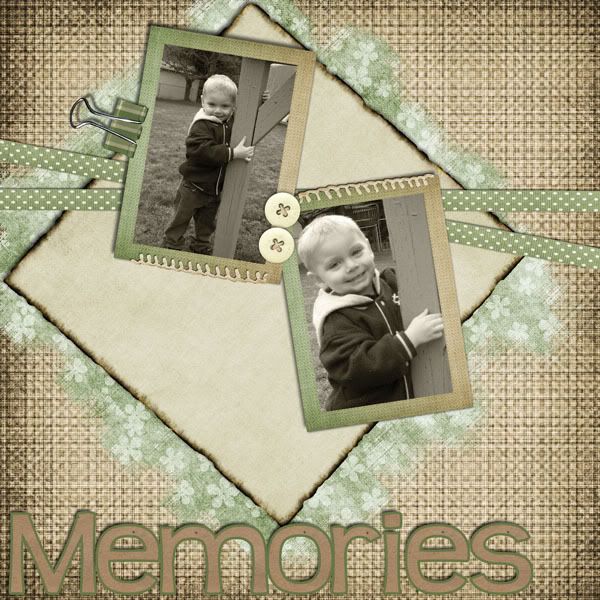 Credits:
Modern Neutrals kit and addon by Christie Lemmon Designs
There was also a speed-scrap this week. We got to do a lot of new things, like photomasks and layering/stacking and using brushes. :) Great fun! I also entered this in the Fontastic challenge at Digital Candy. This is my oldest at less than a month old. Isn't he so sweet?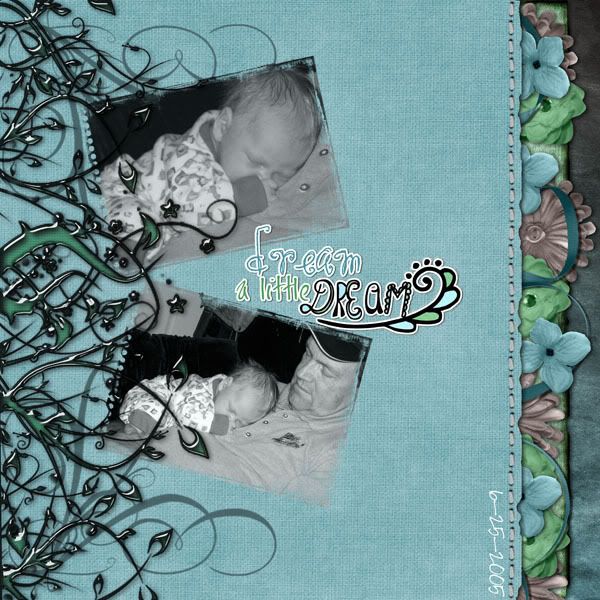 Credits:
kit - "In Dreams" collab by Steel City Scraps and Christie Lemmon Designs
brushes - Obsidian Dawn
photo masks - Gunhild Storeide
fonts - FG Jayne Print and Splurge
Last but not least was the weekly challenge. I doubled-up on this one with the Numbers Challenge at Digital Candy (if you're on DC, you may notice a few slight differences on that one that I had to add to make it work). All the hostess wanted us to do for the BAM challenge was to use some "real" flowers or bits of nature. Easy peasy! :)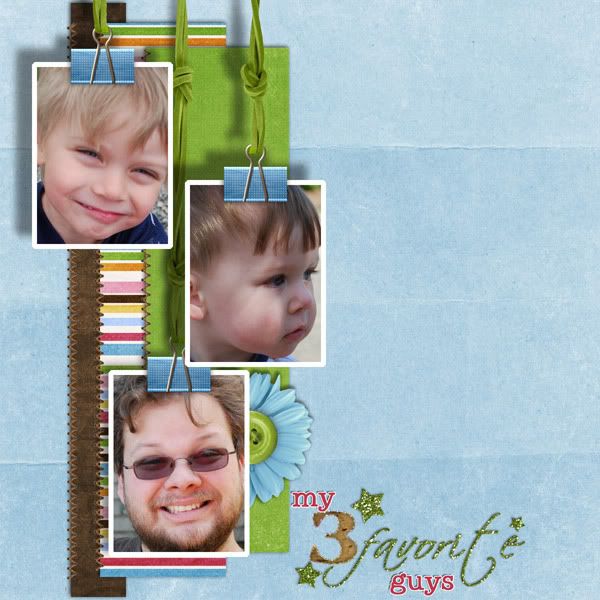 Credits:
Most stuff is from "Pure Perfection" by Stolen Moments.
Rubber-bands are from "Playtime" by geniaBeana.
Green glitter is mine, from BAM Color Challenge #1.
LO inspired by geniaBeana. :)
Template 34
This is a 3-photo template with inspiration! You can use any clip you like to hang the photos from a pretty ribbon or string (or rubber band, in my case!). There's also room for some layered papers and plenty of white space. Inspired by the templates of
geniaBeana
.
6/11/09 - This template has been updated and now includes both the original PSD and new PNG files.
Click on the preview to download!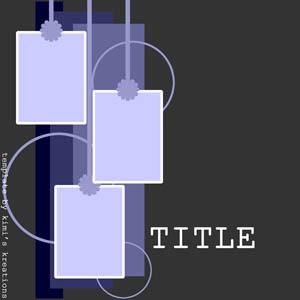 That's all for today! In case I don't get back here this next week, keep an eye out next Thursday/Friday for another blog train!! BAM Color Challenge #2 is on its way!! Choo chooooo! That means no less than SEVEN coordinating minikits to download, plus addons from those of us who just didn't know when to stop. And yes that includes me! I will also have a GLITTER PACK to give you! Watch for it!