I originally intended to release these yesterday, with the add-on, but I went to post and took a second look at my alpha. Without going into too much detail, I decided it needed an overhaul, and I think it is MUCH better this time (and completely and totally different from how it was before). I hope you like it. :) I also had to update the TOU for the glitter, since I decided to make this my first CU freebie! Woohoo!
Spring Flowers Alpha
This alpha is mostly made of the "Missed Your Exit" font, but it did not include an asterisk or curly brackets, so those are swiped from other Kevin & Amanda fonts. The alpha should match my "Spring Flowers" mini and add-on perfectly. :)
Click on the preview to download!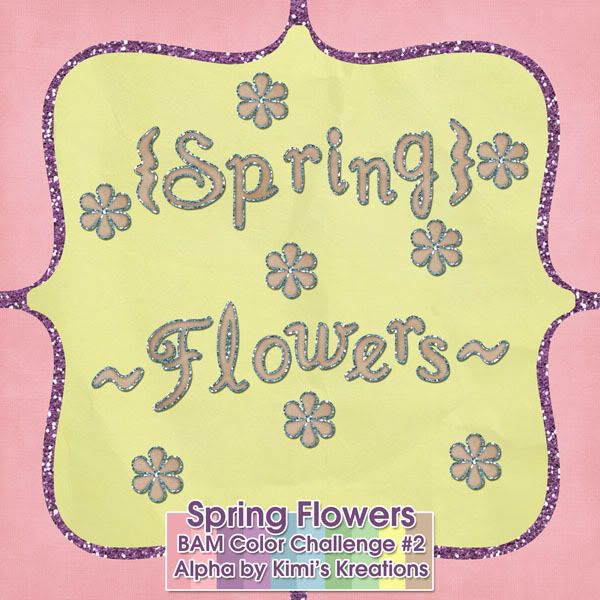 BAM Color Challenge #2 Glitters!
I'm excited about these, can you tell? :) I figured out how to make seamless glitter textures in Photoshop, and made you seamless layer styles (in .asl format) for PS/PSE users, AND 12x12 glitter sheets for those of you in other programs. They are CU-friendly -- this means it is perfectly okay to use my glitter to make your own elements, with or without giving me credit (though it is appreciated!), but DO NOT redistribute the original .asl file or the original glitter sheets! Thanks!
The glitter sheets are huge, so they are in two separate chunks, with the heavy ASL file in its own third chunk. Download links below the preview!
BCC2 Glitter Styles for Photoshop/Elements users:
DOWNLOAD HERE
BCC2 Glitter Sheets for all other programs:
DOWNLOAD 1 HERE
DOWNLOAD 2 HERE